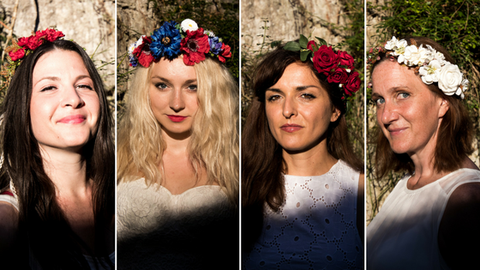 The members of the Roya Quartet come from different countries and cultural backgrounds, which inspired them to research their roots, the traditions and the folk music of their regions. Saxophone may not be a typical folk music instrument, but as musicians, they have never avoided cultural heritage. Not only that, with the help of the composers, they are trying to include folk music into the classical saxophone quartet repertoire.
The inspiration for the Village Ladies project appeared during meetings with the best folk masters and musicians. Their playing and singing are far from being academic, but are conveyed with a depth and a respectful attitude to the roots, lyrics, melodies and phrasings. The Village Ladies program, in cooperation with the composers from Croatia, Poland and Slovenia, consists of new music pieces, composed especially for this project. With a modern-day transformation, using modern techniques and structures, they have created compositions that appreciate folk values and are based on select traditional melodies. The music pieces are unexpectedly unique, enveloped in the beauty of the music and the depth of its message. In addition to the saxophone, other instruments and techniques are interwoven in the compositions: electronics, vocals and traditional folk instruments, such as fujara and baraban drum. The program is supplemented with original compositions or arrangements by composers who drew their inspiration from folk music.
Both voice and singing have a strong narrative power, which is why the versatile artist, composer and singer Zvezdana Novaković was invited to join the project. With her compositions, arrangements and voice, she enriches the project with sound and brings it closer to the candid folk messages, emotions and narratives. The immediate symbiosis between the musicians was driven by the boldness of the artistic expression, the desire to explore, to redefine the lines and search for a different and individual expression without prejudice. An artistic cooperation with deep mutual respect has been formed.
Youtube content can't be displayed with your current cookie settings. Select "Show Content", to view content and agree to the Youtube cookie settings. Get more info in the Youtube Privacy Policy. Opt-out here at any timecookie setting.
Show Content